Transportation Management System
It is known that logistics costs are among the largest expenses a company incurs in its operations. In addition, shipping is a crucial process for guaranteeing customer satisfaction, as it is the final step in the order cycle and connects your business with your consumers. These factors make it necessary to manage these activities efficiently, which is where the importance of technology and investment in the Transportation Management System – or TMS, as it is known – comes in.
In today's post we will discuss this tool in more detail, including the advantages it provides, its features, when the right time is to acquire it, among other things. Continue reading to learn more!
Understand once and for all what the Transportation Management System is
The Transportation Management System – 'Sistema de Gerenciamento de Transporte', in Portuguese – or TMS, is a complete software packed which is aimed at transport management (as the name suggests) and generally has the flexibility to integrate with an ERP, facilitating the control of the entire logistic flow of the company.
It is usually divided into modules, which are purchased according to the needs of the business. The objective is to achieve an increase in quality and productivity in load distribution processes.
With regard to integration with ERP, the TMS facilitates the exchange of information , be that financial, accounting and/or fiscal, as well as expediting the issuance of documents, such as e-BLs ('CT-e') and e-Invoices for Services ('NFS-e').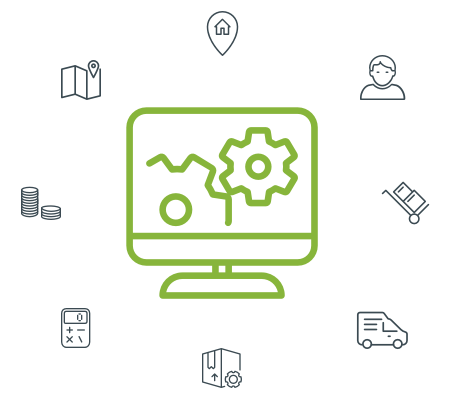 1. TMS Functionalities
The functionalities offered by the Transportation Management System may vary according to the developer company, ranging from more operational issues to management support. Here are some of them:
This functionality helps in deciding which is the best carrier for each shipment that needs to be fulfilled, by means of freight tables. With this, it becomes possible to reduce shipping costs and offer a more attractive freight value for your customers.
Furthermore, it has the flexibility to change the calculation parameters and create restrictions, depending on the type of order, recipient addres, carrier, product, customer profile, among other things.
This functionality automates the exchange of information – with respect to order shipping – with carriers and the postal service, helping to optimise the processes, making them simpler and more agile.
It is also possible to generate labels, prepaid postage lists and packing lists ("romaneios"), through integration with the systems that are used. This exchange of data can be made through EDI and Webservice, for instance.
This tracking module enables the real-time tracking of the shipping status, automating the process of notifying customers of deliveries. This helps to reduce service costs, rebates and returns.
This way, you are able to keep a close watch on the status of orders by region, by date of shipment and delivery, by carrier, and moreover, to analyse incidents. That data can still be integrated with other platforms, such as the customer service centre ('SAC') and other systems.
Another possibility for this tracking is for proactive notifications to be implemented.  Quite simply, these notifications send updates on the status of orders to customers, even before they contact the customer service centre.
Also called Invoice Reconciliation, this feature aids the verification process for e-BLs ('CT-es') and invoices that are issued to contracted carriers and the postal service. This provides faster analysis, decreases error rates and simplifies financial management.
With this tool, it is possible to identify discrepancies between the amounts charged in relation to the freight tables and the product register – or in the operational processes – that can cause errors in the final calculation.
This option is ideal for companies that send through the postal service. This module helps with the monitoring of all orders that are dispatched and opens the so-called Requests for Information (RIs, or 'PIs'). For all cases in which there are delays, faults and losses, therefore, recovery of values ​​can be requested.
With the identification of these non-conformities, a Refunds Report is generated monthly, showing the total discounts that must be made on the invoice, listing all the orders involved.
2. Benefits of using the TMS
As you can see, the TMS automates the most diverse transport processes and ensures more agility, security and productivity. Besides these advantages, it is possible to identify several additional benefits. We have highlighted some of these:
With the Transportation Management System (TMS), various items of data are automatically cross-referenced, making use of several freight tables of several carriers. The result is obtained in real time and is based on the business rules that have been configured.
Furthermore, by processing the data (modalities, terms, freight tables, risk management, among others), it is possible to simulate scenarios and choose the best strategy according to each trip: this ensures a decision is made based on cost-benefit.
As a result of this, your team increases productivity and can focus on more strategic processes, while it is possible to increase agility in decision-making without the risk of errors.
With this module, it becomes possible to integrate the company's system with the carriers and the postal service, facilitating the generation of documents such as packing lists ("romaneios") and postage labels, for example – which expedites the shipping process.
Thus, engaging the carriers is quicker, which, in turn, brings about a decrease in the order lead time. With delivery time reduced in a structured manner, quality increases and customers become more satisfied with the service provided.
Automatic tracking of shipments helps to identify events that can hinder deliveries. This helps avoid issues such as redelivery and returns, which increase logistical costs and lead to process inefficiencies.
Using automatic tracking, a manager can adopt a number of transportation improvements, such as:
open calls and deal with events proactively;

monitor customer satisfaction with the delivery service (the so-called Net Promoter Score, or NPS);

notify customers by SMS or email and keep them updated about their orders;

notify carriers regarding, for example, a lack of information or pending items.
Through the invoice audit process, validations are carried out in the collection of freight, in addition to identifying discrepancies between the amount agreed and the amount being charged by the carrier. If the amounts ​​are correct, the payment is cleared.
In cases where the company does not use the pre-invoice option, it is possible to use the TMS to read the e-BL ('CT-e') and the invoices and to carry out a reconciliation of the amounts ​​using the freight tables.
The generation of reports gives the manager more concrete knowledge to inform decision making. With this option, it is possible to identify process failures, their causes and to create more precise action plans, as well as to pinpoint the steps which can be improved.
3. Why use a TMS in logistics operations?
In addition to the benefits already mentioned above, there are several reasons why the use of TMS is indispensable for logistics operations. Among the main reasons, we can mention:
For each delivery that needs to be made, the TMS provides the option of making a simulation of the freight cost. As a consequence, the cost evaluation process and the contracting of transportation become more comprehensive, and a comparison between the available carriers can be made.
This makes the process more reliable, agile and secure, and it leads to more accurate decision making. In other words, the person responsible for the contracting activity chooses the best shipment solutions according to the cost-benefit on offer.
If your company works with fractional loads which are scattered across several regions, optimised route planning is a challenging task. In this regard, making an agreement with customers so that deliveries are planned enables the adoption of so-called "scheduling" – which facilitates the consolidation of shipments and a larger volume for distribution.
With this possibility, your company can accumulate a greater number of orders, which will be sent on specific days, improving routing and optimising vehicle space – thereby helping to reduce operating costs.
Care must be taken, however, not to leave orders waiting too long before being loaded, since this harms the lead time.
The TMS helps to control these issues, considering the delivery deadline, the date of sending and the date of scheduling. Thus, the transport can be triggered at the most appropriate time, informing the carrier when shipments can be loaded and dispatched.
There is jargon in the field of ​​administration that says, "you can't control what you can't measure". In other words, if you are not able to monitor and measure your processes properly, the chances of achieving the expected results and making an effective and responsive decision are small.
Therefore, the more information you have about operations, particularly deliveries, the greater the chances you will have of being able to anticipate risks and create better actions.
In the case of proactive notifications (mentioned above), for example, the tracking of shipments helps to improve the management of events, enabling the manager to have information in real time, to identify the problems and to notify the client immediately.
While it does not entirely prevent dissatisfaction, this strategy does help to balance expectations and to ensure that consumers are not taken by surprise, making the process transparent and rendering your company more reliable.
With this option, you can decrease the workload of the customer service centre ('SAC') – since customers do not need to contact you to track their deliveries – thereby giving them more time to tackle more important issues that need to be resolved.
Consequently, it is possible to transform management so that it stops being reactive ("fire-fighting"), instead allowing the manager to anticipate and avoid risks, or at least to minimise their impact.
4. When is the right time to employ a Transportation Management System?
As you are already aware, TMS technology provides several benefits. But are you able to identify the ideal time to employ a TMS? Take a look at our list and find out what the signs are that it's time to automate your operations:
5. How to obtain a TMS?
To employ a TMS, you must choose a developer company. This decision, however, is not as simple as it might seem. So as not to run the risk of investing in a solution that does not fit your business model, you must take some basic care. Check out some basic care considerations:
As you can see, the Transportation Management System is a solution that aims to facilitate and improve transportation processes, as well as to support the manager in their decision-making process and their development of smarter strategies. In spite of the resistance that some managers have to making an investment in an age when cost reduction is necessary, we can say that the adoption of such a system provides a highly compensatory cost-benefit ratio.
Want to know how a TMS works in practice?
Request a demonstration now and see how our solution can help your operation.