1. Privacy Statement
INTELIPOST knows how important it is to know and be sure about the use of personal data in its possession. Therefore, we are concerned with clarifying and explaining our Privacy Policy.
We recognize the need to protect and properly manage the personal information collected on our website, as well as that shared by our clients. This Privacy Policy will help you understand what types of information we may collect, how that information may be used, with whom the information may be shared and what are the holders rights regarding the protection of their personal data.
2. What personal information do we collect?
The personal information we obtain may be collected in the following ways:
Site: Personal information is collected when the user interacts on our website, for contact or clarification of doubts, through the forms available on our service channels, including performed by chatbot on our website. This personal information includes, but is not limited to, name, email, telephone, company and title. When filling out the form, the user chooses to give, or not, consent to the processing of this data for the receipt of electronic messages and newsletters. It is possible to unsubscribe from the newsletter sending list at any time by clicking on the unsubscribe link contained in the body of the emails.

The user of our portal is not obliged, under any circumstances, to provide any personal data to browse the pages of the site, so that any information is provided freely and spontaneously. It is only necessary to collect basic data when the user wants to return his contact. All personal information is collected fairly and non-intrusively with your
voluntary consent. The personal information collected is accessible only to those who have a need to know it for the execution of pertinent activities, respecting the purpose for which it was provided.
Newsletter: The User can choose to receive our newsletter, containing news, articles and promotions, by filling out the e-mail in its own form on our website. The user may, at any time, stop receiving communications from us by clicking on the unsubscribe link contained in the footer of the emails sent.
Contact: The user can contact us by telephone. Personal data is collected with the
purpose of identifying the user, as well as to fulfill his request. These may include, but are not limited to, name, email, telephone and company. In addition to these, we collect any personal data that is spontaneously informed by the user.
Cookies: Personal data may be collected through cookies. For more information, see our Cookie Policy.
Data related to the provision of our services: To make our services viable, through the
technical solutions offered, we process data from our clients; employees who will have
access to the platform. This data, which is shared and controlled by our clients, includes name, NIN (National Insurance Number), e-mail, address, telephone, position and access credentials (login). In addition to these, we may process identification and contact data of our clients; legal representatives to enable the signing of the contract.

INTELIPOST will store this data, by itself or through its technological infrastructure providers, according to the instructions received from its clients, and for the time determined by them.
Data shared by our clients: To enable the technological solution for freight
optimization that we offer our clients, it is possible that we process the personal data
of consumers of the products and services of the companies that hire us, such as full
name, NIN (National Insurance Number), e-mail, date of birth, address and telephone.
This data is controlled and shared by our clients. INTELIPOST will store this data, by itself or through its technological infrastructure providers, according to the instructions received from its clients, for the time determined by them.
Candidates for job openings: Personal information from applicants for job openings is collected by filling out a form available on the Gupy platform. These data are, among others, Name, e-mail, Telephone, City and other professional information filled in or mentioned in a document forwarded by the
candidate. Said information will be shared with us for curriculum analysis and conduction of selection processes. To better understand how the Gupy platform processes your data, we recommend that you consult the Terms of Use and Privacy Policy of the platform.
Employees: Regarding the personal data collected from our employees, these are necessary for employee registration to be carried out, in compliance with labor legislation and execution of the employment contract.
3. Social Media
INTELIPOST also uses Social Media to communicate and interact with its clients and consumers through third-party websites such as, for example, the INTELIPOST Blog, Facebook, Twitter, Instagram, Linkedin, YouTube or GitHub. These third-party websites are an Internet-based technology that is not operated or controlled by INTELIPOST. By interacting with, sharing or "Liking" the INTELIPOST page on the INTELIPOST Blog, Facebook, Twitter, Instagram, Linkedin, YouTube, GitHub or other social media, you may reveal certain personal information to INTELIPOST or third parties. We use "social buttons" to allow our users to share or bookmark web pages. These are buttons for third-party social media sites that may record information about your activities on the Internet, including this site. Please review the respective terms of use and privacy policies of those platforms to understand exactly how they use your information, such as opting out of receiving or deleting such information.
The amount of personal information visible will depend on your own privacy settings on the INTELIPOST Blog, Facebook, Twitter, Instagram, Linkedin, YouTube, GitHub and other social media.
4. Purposes and legal bases
We list below the purposes and legal bases of INTELIPOST data processing: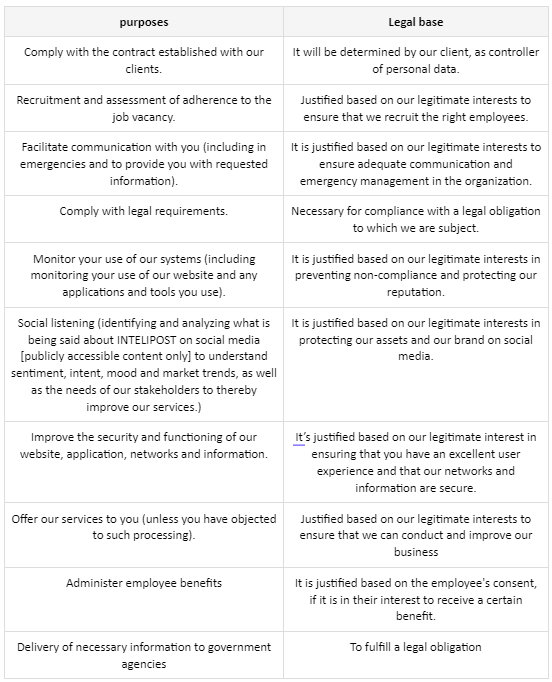 We only rely on our legitimate interest for specific purposes. This processing of personal data does not in any way override the interests, rights and freedoms of the holders of personal data.
5. About the sharing and transfer of information
INTELIPOST does not have the practice of disclosing information that can identify the user and never shares information or sells and rents this personal data to third parties. These data are for the exclusive internal use of the company to achieve the purposes expressed in the previous item.
Data may be shared with third parties only under the following conditions:
Upon court decision or request by government oversight bodies;

Data transferred to public bodies to comply with current legislation, for example personal data contained in electronic invoices and respective XMLs, or data from our employees necessary for the payment of INSS or FGTS;

Data transferred to financial institutions to provide payment options to our clients, or to pay wages to our employees and providers;

Data transferred to external audits and law firms, mainly to comply with regulatory obligations, processes to improve and perfect our governance and defend INTELIPOST's legal interests, when necessary;

Public authorities, regulatory agents or official bodies, upon request or express legal provision, to comply with legal obligations to which we are subject;

Data shared with group companies, partners, operators and service providers that participate, directly or indirectly, in the development of INTELIPOST's business activities, such as technology and infrastructure providers, software engineering, anti-fraud partners, insurance companies, candidate selection and recruitment platforms, delivery management services, control of products/goods at collection and distribution points, confirmation of delivery of products/goods, communication with consumers for delivery purposes, tracking of deliveries, reverse collection, customer support services, verification of consumer registration information, research, sending of e-mail, advertising and marketing, data storage, auditing and data processing;

In case of corporate operations such as merger, acquisition, transformation, spin-off, or a partial or total sale of assets, we may share, disclose or transfer all data of the holders to the successor organization.
Some of the service providers mentioned above may be located abroad, in which case INTELIPOST adopts additional safeguards to guarantee an adequate level of protection of personal data, in accordance with the relevant Brazilian legislation.
6. Information security
To ensure that your personal information is secure, we communicate our privacy and security guidelines to INTELIPOST employees and business partners and strictly follow the precautionary measures regarding privacy within the company.
We strive to protect your Personal Information, and that entrusted to us by our clients, through physical, technical and organizational measures that aim to reduce the risks of loss, misuse, unauthorized access, disclosure and improper alteration of this data.
We implement a series of security measures, procedures and mechanisms capable of protecting personal data from unauthorized access and accidental or unlawful situations of destruction, loss, alteration, communication or any other form of irregular treatment, as described in our Security Policy Information.
INTELIPOST has the ISO 27001 Information Management Systems certification, which establishes guidelines, good practices and standards for managing information security in the corporate context, provisions that are compatible with the General Data Protection Law (LGPD).
7. Holders' Rights
Holders of personal data have certain rights regarding their personal data and can exercise them by clicking here to access the Data Request Form (DSAR) or via email: dpo@intelipost.com.br.
The holders' rights are:
Confirmation of the existence of processing of personal data;

Access to personal data, under the terms of the applicable legislation;

Correction of incomplete, inaccurate or outdated personal data;

Portability of personal data;

Exclusion of personal data, when these are processed based on the consent of the holder or when the data are unnecessary, excessive or treated in breach of applicable legislation;

Requesting information about the shared use of personal data;

Revocation of consent, where applicable.
INTELIPOST will always evaluate the best way to fulfill the request to exercise any of its rights. However, INTELIPOST may fail to comply with your request, in whole or in part, in specific situations protected by law, such as, for example, for the fulfillment of a legal obligation or a contract it has with you.
We emphasize the importance of keeping your personal data accurate and up to date. Therefore, always keep INTELIPOST informed if your personal data changes or is incorrect.
For security reasons, for requests made via emaildpo@intelipost.com.br, the request will be fulfilled when we are sure of the user's identity. Therefore, we may request additional data or information to confirm the identity and authenticity of the holder. This data and information will be protected during the storage period and will be deleted as soon as the purpose of confirming the identity of the holder is exhausted.
8. End of Treatment
This Privacy Policy applies to the above-mentioned circumstances for the entire period in which INTELIPOST stores personal data. We store and retain your information: (a) for as long as required by law; (b) until the end of the processing of personal data, as mentioned below; or (c) for the time necessary to preserve INTELIPOST's legitimate interest. Thus, we will process your data, for example, during the applicable statute of limitations or as necessary to comply with a legal or regulatory obligation.
The end of the processing of personal data will occur in the following cases: (a) when the purpose for which the personal data was collected is achieved, and/or the personal data collected is no longer necessary or relevant to achieve such purpose; (b) when the Holder requests the deletion of his data, (c) when there is a legal determination in this regard and (d) when the end of the treatment is determined by the Controller.
In cases of termination of the processing of personal data, subject to the assumptions established by applicable law or by this Privacy Policy, personal data will be deleted.
9. Personal Data Officer (DPO)
INTELIPOST provides below the contact details of the Data Protection Officer (DPO), who is responsible for meeting all requests by the holders or the National Authority, which are related to personal data.
For any questions, requests or complaints regarding the processing of personal data, please contact our Data Protection Officer (DPO):
DPO EXPERT– (www.dpoexpert.com.br)-Contact:dpo@intelipost.com.br
If, despite our commitment and efforts to protect your data, you feel that your data protection rights have not been met, we ask that you contact our DPO. In addition, you have the right, at any time, to file a complaint directly with the National Data Protection Authority, if you believe that the rights over your personal data have been infringed.
10.Changes to the Privacy Policy
Although our Privacy Policy has been presented in a clear, concise and objective manner, please do not hesitate to consult the DPO of INTELIPOST, in case you have any doubts about this important document or even about the personal data processing activities we carry out.
INTELIPOST reserves the right to update or modify this Policy, at any time and without prior notice. However, we will always publish the new revised version on our website. If there are changes in the way we handle personal data, you will be informed so that you can check whether you intend to continue using our services.
Our website uses cookies to improve performance and enhance your browsing experience. Certain areas of our site also use cookies to understand more about you and so that we can offer you a more personalized browsing experience. By continuing to use this website, you are aware that we may install cookies or other similar technologies on your equipment, including your mobile device.


What are cookies?
Cookies are small files, containing a little information about your access, and which are stored on your device when you visit a website. can be used to describe a number of technologies, including but not limited to pixel tags, web beacons and mobile device identifiers.
These files allow the site to recognize your equipment and record your interaction on the pages of the site itself. They are widely used on the web to improve user experience, provide information to website owners and offer advanced functionality.
These cookies are sent back to the originating website on each subsequent visit or to other websites that recognize this cookie. Cookies allow the website to recognize your device and remember important information such as your preferences, items in your shopping cart and login details.

Why do we use cookies?
Cookies perform many different tasks, such as optimizing your navigation through pages, remembering your preferences and personalizing your browsing experience.
They even help ensure that the ads and other content you access online are relevant to you. In addition, they are used to collect statistical data that are used to implement improvements on our website and ensure the best user experience.
How Cookies are used by INTELIPOST?
A INTELIPOST uses the following types of Cookies:
Essential Cookies- Essential cookies are necessary for the functioning of the Sites and the provision of services to you, based on our legitimate interest. Without these cookies, the Sites will not function as well as we would like and we may not be able to provide certain services or features associated with them.

Preference Cookies- Preferences cookies collect information about your choices and preferences, allowing our websites to remember your language, region, device used or other settings so that your experience is personalized according to those preferences.

They may also be used to remember specific settings you have made on our website.
Analytical/Statistical Cookies- Analytical cookies collect information about the use of the website, allowing us to improve its functioning. Analytical cookies, for example, show us which are the most popular pages on the website, how much time is spent on each page, difficulties users have when navigating and other analytical data. This information helps us to continually improve the performance and usability of our website.

Advertising/Marketing Cookies- Advertising cookies are used for marketing purposes,
allowing the targeting of advertisements that appear to you based on your interests.
The aim is to make advertising content more relevant to you, improve reporting on
campaign performance, and avoid showing repetitive ads.

Within these four categories, cookies can be classified as either "session" or "persistent" cookies. "Session" cookies are temporary and once you close your browser window they will be deleted from your device. Already, remain on your device until their expiration date, or until you delete them, and are used by
the site to recognize your device on your subsequent visits.

Do we use third-party cookies?
Some cookies we use are from other companies that provide services on our website,
such as analytics tools or social media plugins such as Google Analytics. These companies use programming codes to collect information about your interaction with our sites, such as the pages you visit, the links you click and how long you stay logged on our sites.

What other tracking technologies do we use?
We may also use web beacons (including conversion pixels) or other technologies for similar purposes, and may include them on our websites, in marketing email messages, or on our newsletters and affiliate websites to determine whether messages have been opened and if the links were clicked. Web beacons do not install information on your device, but they can work in conjunction with cookies to monitor website activity.
Conversion pixels are small codes located on a particular web page that change when someone visits the page, resulting in an increased conversion count.

What if I don't want cookies?
By using our website, you agree that we may use cookies on your device. On your first visit, a "cookies banner" will appear informing you about the use of cookies on our website. Settings regarding the use of cookies can be changed in your browser. Consult your browser's help section for information on how to change your cookie settings.
Please remember that disabling cookies may negatively affect the functionality of certain features on our website.
If you have any questions about this Cookies Policy, please contact us via email: dpo@INTELIPOST.com.br
Cookies we use on our website: